Reunion 2018 Recap
2018 Reunion - EPHS Class of '61
October 26 – 28, Dallas, Texas
In keeping with the spirit of always being open for adventure, almost fifty classmates and their spouses converged in Dallas, bringing this reunion to esteemed and Dallas-bound Class President Richie Ford and Julie.
Weather caused some early trepidation, especially for the Krupp's and Wieland's who navigated rain lashed highways using a combination of back roads and toll roads to avoid the traffic snarls for their early arrival.
But by Thursday the weather cleared, giving a warm welcome to Tigers from Oregon, Los Angeles, Austin, San Antonio, Leander, Iowa, Maryland, Georgia, Pennsylvania, Hawaii and, of course, our stalwart El Pasoans and worker-bee Dallasites….and don't forget Australia!!
There was an informal gathering for dinner at Casa Mama in North Dallas. Local committee members George Peinado and Edie, Bob Drotman and Judy and Burton Mason joined Irene Branson, Dianne Doan, Kay Skevington, Kirk Thompson, the Jauncey's, the Krupp's, the Persing's and the Coldwell's for some pretty authentic Mexican food. While not El Paso hardcore, it was very tasty and our intimate restaurant alcove provided a great place to get re-acquainted over Margaritas and beer.
Friday dawned a brilliant day which began for most in our hospitality room. Stocked and manned by Dianne Doan and Irene Branson with delicious homemade muffins, savory snacks, sweets, coffee and soft drinks it was the perfect size venue filled with tables for visiting and a TV playing a continuous loop of slides from previous gatherings put together by Skip Krupp.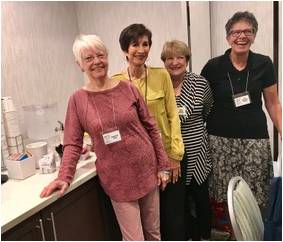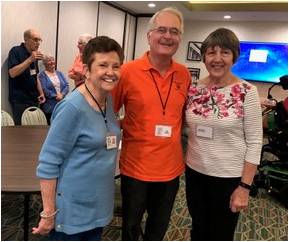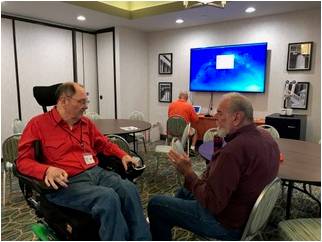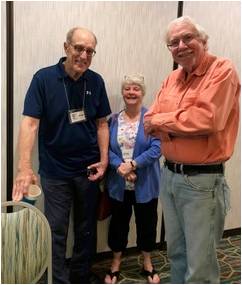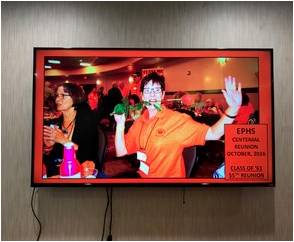 Wine and kegs of craft beer were courtesy of our Vice-President of Liquid Refreshment, Mick Martinez. Richie Ford was on hand this morning to greet us all.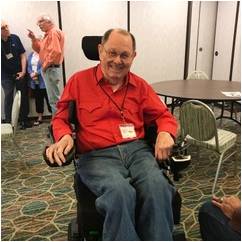 By noon, the hotel courtesy bus ferried us to the George W. Bush Presidential Library at SMU.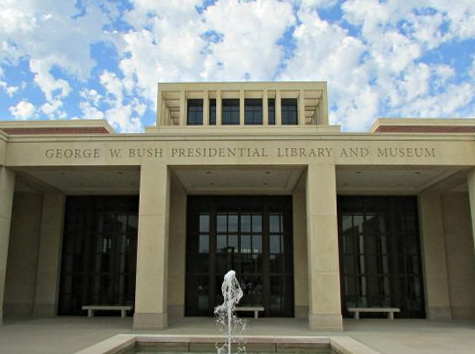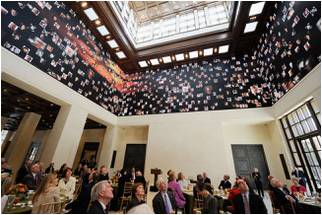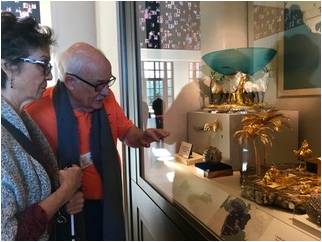 Once everyone assembled, an exuberant docent, herself a 1961 graduate, gave us an overview of the museum. By the time the Tigers finished with her, she was singing her own fight song! We then had free time to revisit our favorite exhibits. Some enjoyed hot dogs in the sunny courtyard under the gaze of the giant bronze statue of the President.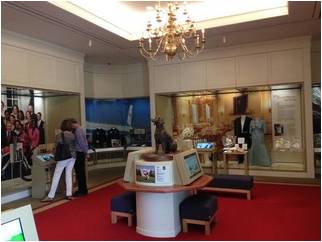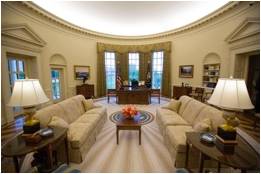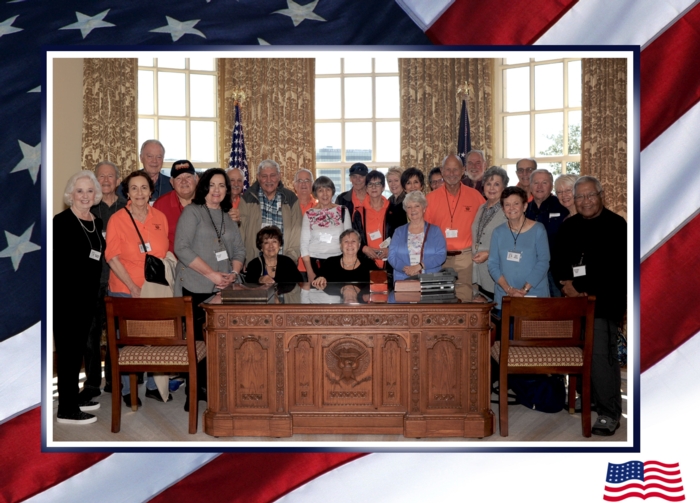 Friday dinner was held at RHB-Q conveniently located near our Hampton Inn headquarters. A remodeled and rollicking BBQ joint with big screen TVs playing college football and the World Series, we had a hard time keeping our eyes on platters of ribs and smoked meats with the usual Southern sides.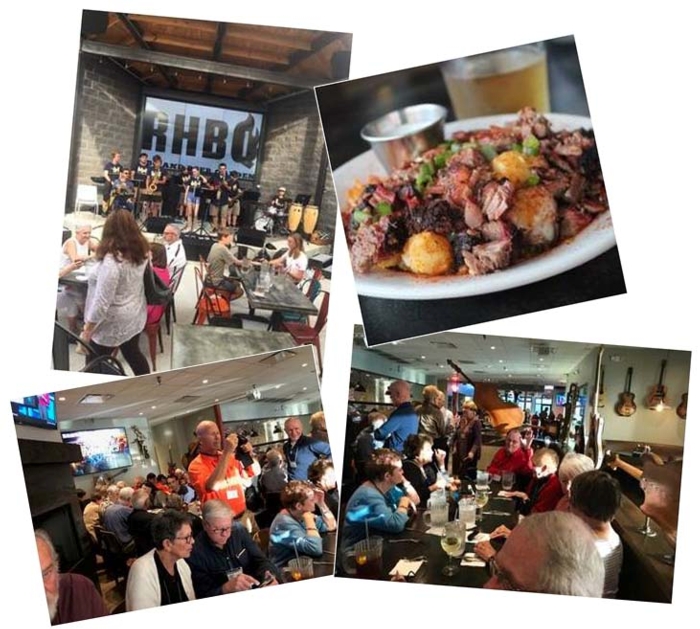 No one was ready to call it a night so the party continued in the hospitality room until the late hours. Boy, those Martinez wine corks were popping!
Saturday continued with beautiful weather and temperatures in the 80's under that famous Texas blue sky.
We are off to The Dallas Arboretum and their autumn festival. Named one of "America's Best Pumpkin Festivals" by Fodor's Travel and "One of the World's 15 Most Breathtaking Gardens" by Architectural Digest, it is a spectacular show of color with 4,500 of fall's favorite Chrysanthemums, along with 150,000 stunning fall blooming plants.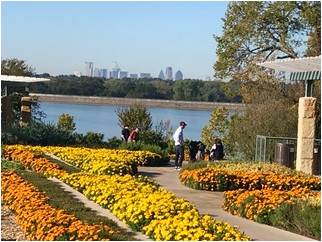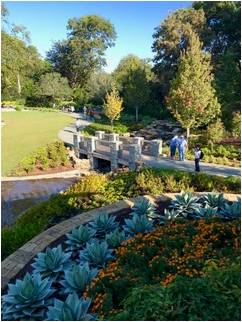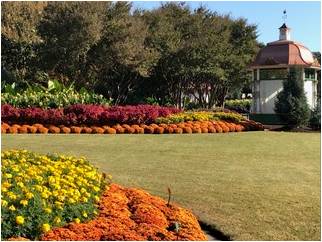 The showcase exhibit is the Pumpkin Village, featuring more than 90,000 pumpkins, squash and gourds in the theme of Neverland, plus the outstanding Children's Adventure Garden.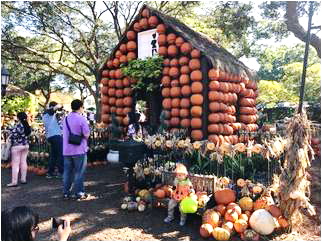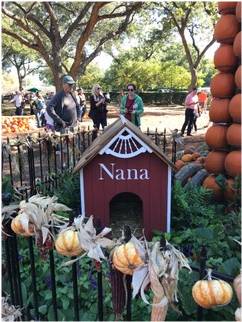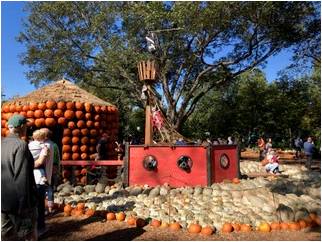 An added bonus was trick or treat day for the kids. Armed with a map to the various candy tables, toddlers in cute costumes with painted faces mingled with those pushing walkers or wheelchairs making for a true melting pot day.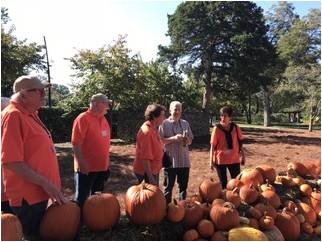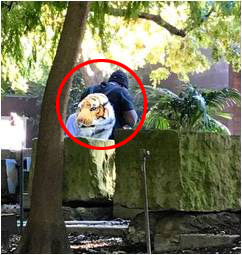 The Tigers were distinctive in their neon orange shirts and sparked many questions about whether we were chaperoning a field trip for high-schoolers! We saw an unaffiliated Tiger fan sporting a plush tiger backpack. He fit right in!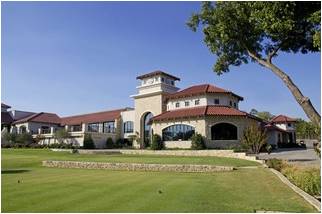 Everyone needed a rest before it was time to cruise up the winding road through the verdant grounds of Royal Oaks Country Club for our celebratory dinner. "We're here for Richie's party" equals instant access at the entry! Led to an airy room overlooking the 18th Fairway, a swath of green studded with old trees wearing their fall colors, we find the tables beautifully set and the bar in full swing.
Richie gave the invocation. He was certainly aware of the palpable love in the room and found it emotional to make his remarks. But aided by perennial MC Mike Wieland, he spoke of the deep bonds of friendship enjoyed by this very unusual and exceptional class. He honored those deceased classmates who had graduated early and thanked those who traveled from near and far and all the committee members for their hard work.
After our sumptuous buffet, Mike Wieland led with stories from the glory days. Mr. Estes' infamous paddle made a surprise appearance, hand carried to the event by Tom Warren. Rob Hovious, apparently no stranger to the paddle, lent his behind to demonstrate it still works!
Mike recognized our departed classmates who have attended the ultimate reunion.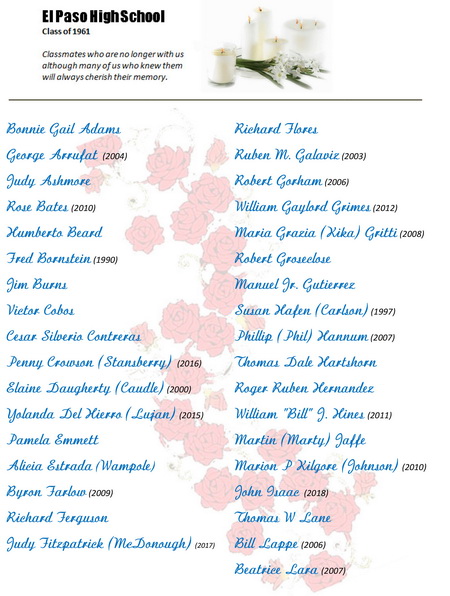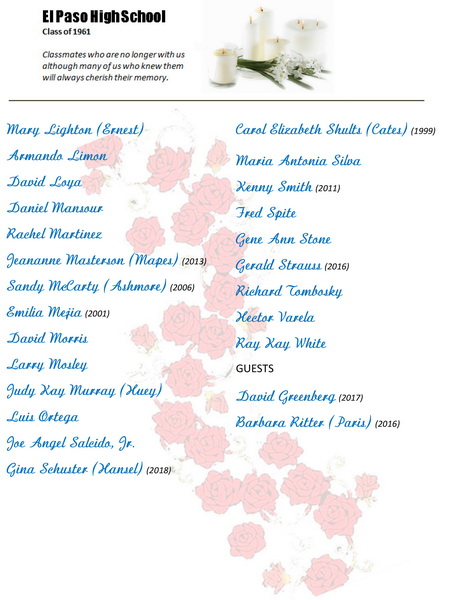 What's a party without a few parting gifts? Bob Drotman and George Peinado did not disappoint with stemless wine glasses engraved with EPHS Class of '61 Reunion sporting a tiger figure on the back taken from an old Bob Wade illustration from The '61 Spur. They were perfect mementos. The Dallas contingent of the committee really did some heavy lifting for this whole weekend.
We had a later start on Sunday morning, arriving at The Star, a Dallas Cowboy practice facility in Frisco, TX for our 10:30 tour.
Entering through a circular drive centered with a glinting sculpture of huddling football players, we made our way from the parking garages up a boulevard lined with shops and eateries toward the Jumbotron that anchors the entrance.
A live football game is playing on the giant screen that overlooks a mini football field of artificial turf. Here kids are throwing footballs while toddlers, dressed in Cowboy regalia, are ignoring their camera-toting mothers, resisting those Christmas card photos.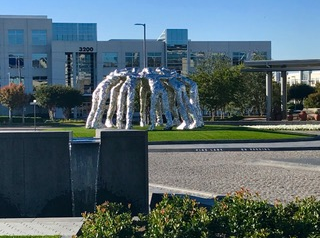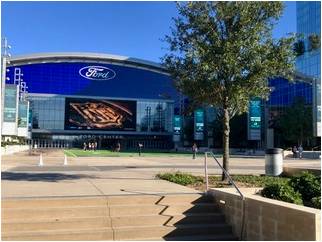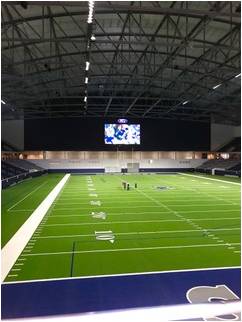 Our personable guide oozes football from every pore. He explains the complex was built in partnership with the Frisco Independent School District that was in desperate need of a football stadium for their rapidly growing school district. This resulted in a 12,000 seat indoor stadium that hosts many Friday night high school games. It also doubles as the indoor practice field for the Cowboys.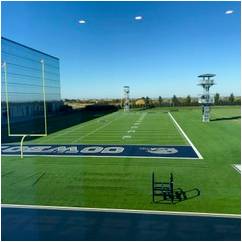 Outside are two practice fields, one in natural grass and one in turf. We toured areas used by the scouts, the video area, the amazing locker room and the theater used in team meetings.
We strolled through the cafeteria and looked at various tableaux on Cowboy history including some huge and sparkling Super Bowl rings and trophies. Our endpoint was a beautiful hall, its marble floor filled with plaques honoring famous Cowboy players.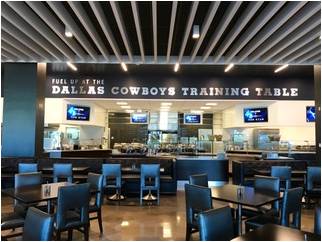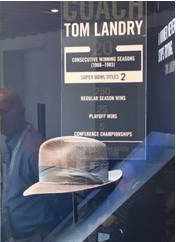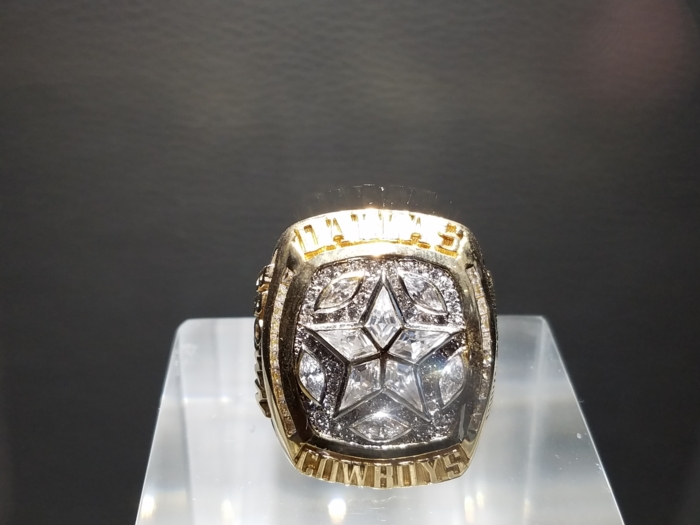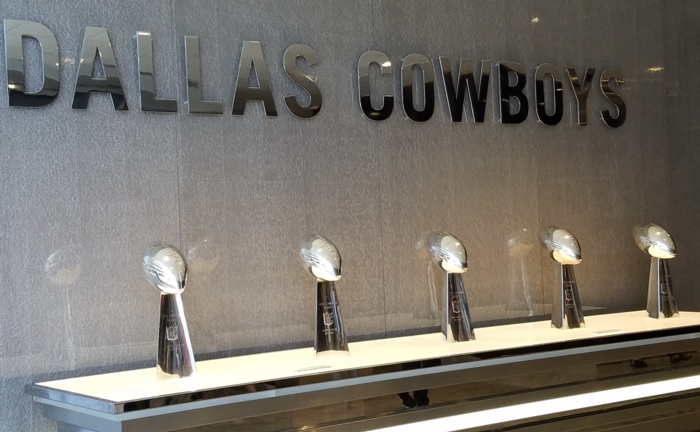 Crowning it all was a massive halogen light installation falling like silver tinsel from the ceiling high above.
Whether an avid football fan or not, the complex is an architecturally beautiful structure and the commentary was fascinating.
Two hours later we are grateful to sit down at Tupelo Honey for our farewell lunch. It's a great restaurant and everyone enjoyed their meals and drinks, including the world's biggest Bloody Mary. Judy Haddad was pouring some into any empty glass she could find to share!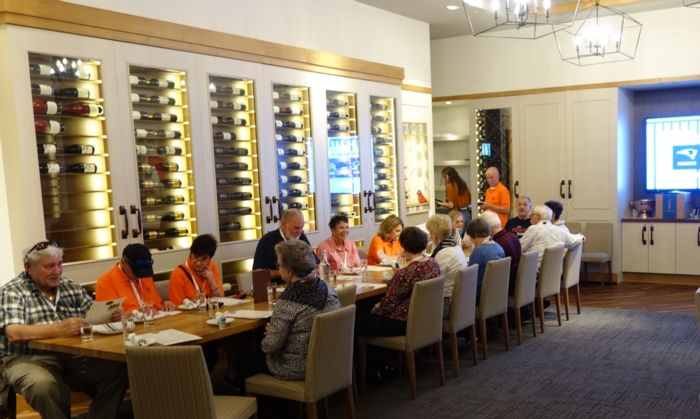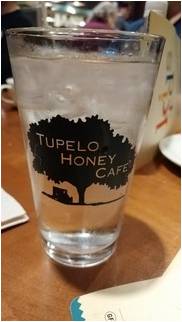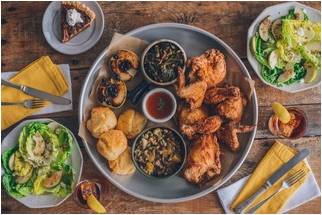 Alas, all things are finite and this weekend has come to an end. It was a well-planned event from the hotel to the venues to the restaurants. This smaller and more intimate group found many classmates in long conversations they would never have had the opportunity to enjoy in a more bustling gathering. The entire committee deserves praise for their efforts over many long months.
Of course, there is talk of the future. But for now let's just savor this weekend we have so enjoyed.
Susan Krupp